Which Credit Cards do you accept?;
We accept Credit and Debot Cards:
Visa, Visa Electron, MasterCard (America Express will be added soon)

Are there any charges for payment with credit card?
No, there are no extra charges for payment with credit/debit card.

Are the payment transactions with credit card secure at Studio 52?
Yes. All transactions with credit/debit card are completed through our online secure payment system . We use the 256bit SSL protocol in cooperation with Eurobank and VeriSign, which is today, one of the most powerful security protocols worldwide. The payment is completed directly to the Eurobank / Cardlink enviroment and no card information is kept for maximum security.
For more details about security, you can see our "Security of Transactions" web page.

How does your credit card payment system work?
After we have processed your order, we will send you via e-mail the web link for our online secure payment system. In the first section, you see the total order cost and the postal expenses. In the second section were you are redirected to the Eurobank/Cardlink secure payment enviroment you will be asked to enter your credit card number (16 digits without spaces), expiration date (month/year) and CVC/CVV number (3 digit number at the back of your card).

Example:
Card Type: Visa, MasterCard, Visa Electron, Maestro
Card Number: 4060000000000001
Expiration Date: 05 2022 (05=month, 2022=year)
Name on card: FULL NAME
Card verification code (CVC/CVV): 123
The CVC/CVV (Card Validation Code / Card Verification Value) is a three-digit code printed on the back of your Credit Card. It appears at the top right corner, far right from the card number. The CVC code helps validate you as a legitimate cardholder. This increases our commitment to protect our customers from fraud.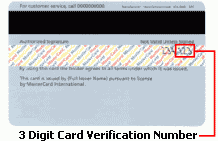 See HERE an example of the payment page.

After you fill out the above information, by pressing "Proceed with Payment", your transaction is complete. If your card has the extra security 3D (MasterCard SecureCode / Verified by Visa) you will be redirected to the card issuers page to complete your transaction. The payment is automatically processed by Eurobank/Carlink system and after a few seconds you will be redirected to the confirmation page, if the payment was successful. You will also receive a confirmation e-mail with your payment receipt. In case the transaction is not completed for any reason (incorrect card information, session timeout) or the payment is not accepted by Eurobank, you will be noticed to try again.

New payment service MasterPass by MasterCard:

We now offer to our customers the new payment method MasterPass by MasterCard, a "digital wallet" for safe and fast online payments.